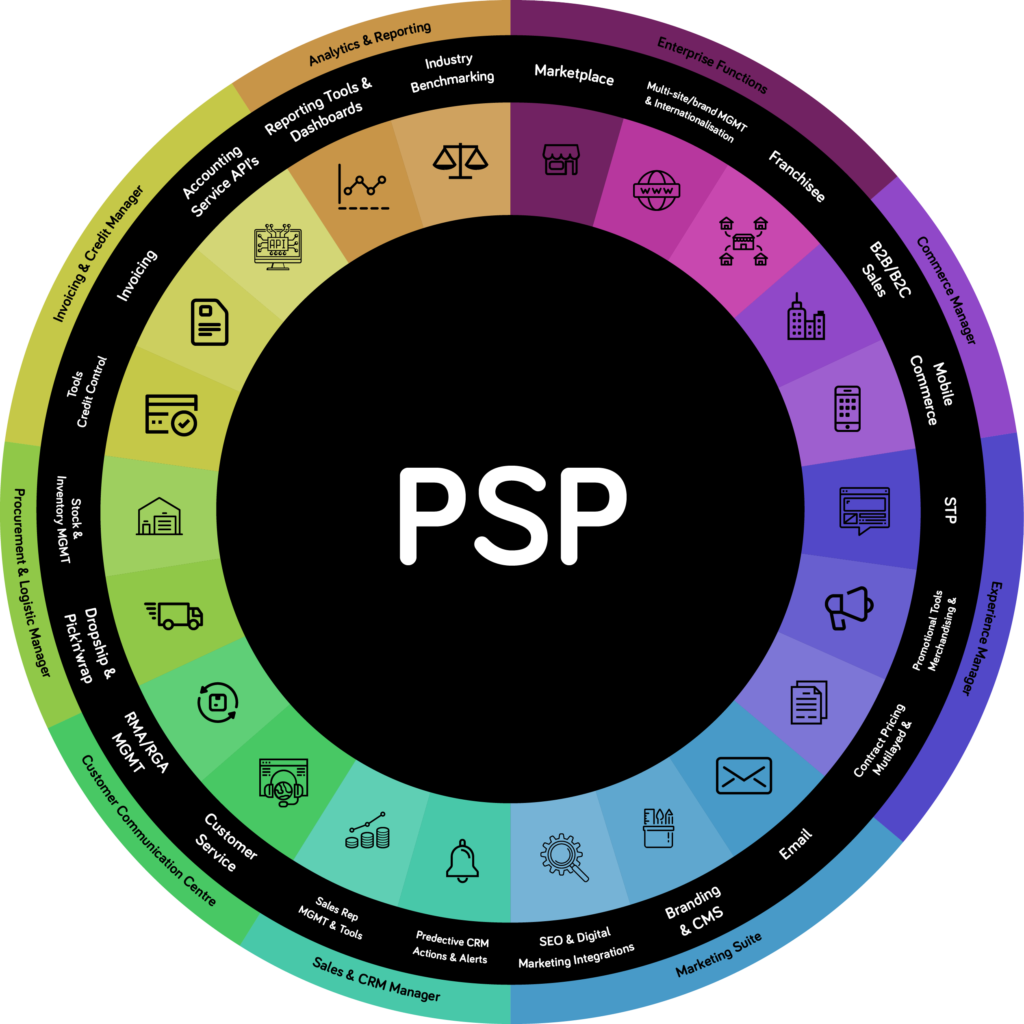 Enterprise Functions
Multi Brand Management
Multiple Organisations, Websites & Stores
Franchisee Options
Internationalisation
Marketplace Integrations
Commerce Manager
Full Order & Quotation Management
Multiple Basket & Custom Checkout
Multiple Payment Options
Approval Workflows
B2B Corporate Management (Cost Centres, Core Lists, Purchasers, Approvers)
Mobile Commerce
Personalised B2B Catalogue Management
Experience Manager
Merchandising Tools
Personalisation & Segmentation Tools (STP)
Audience Targeting & Live Data Capture
Faceted Searing using Elastic Search
Cross Sell & Predictive Upsell Mechanics
Multilayered Pricing & Promotional Tools
Contract Pricing
Marketing Suite
CMS & Store Branding Controls
Landing Pages
Email Marketing
SEO Management
Digital Marketing Integrations (Affiliate, Google, Bing)
Sales & CRM Manager
Predictive CRM Actions & Alerts
Sales Rep Management (Commission Structures & Contact Strategies)
Sales Team Targeted & Budget Setting
Customer Allocations
Contact Strategies
Customer Fairshare & Gap Analysis
Triggered Email Marketing Tools
Customer Service Centre
Customer Service Enablement
Supplier Integrated RMA/EGA Management
Flexible Workflow Engine
CSAT & NPS Measurement
Procurement & Logistic Manager
Drop Shipping & Pick 'n' Wrap Delivery Options
Delivery & Returns Management
Full Supplier FTP & HTTPS Integrations
Stock Feed Integrations
Inventory Management
Stock Management
Invoicing & Credit Manager
Fraud & Credit Limit Management
Credit Applications
Credit Control Management
Multiple Invoice Types (inc. Consolidation)
Flexible B2B Invoicing & Statement Options
Credit Notes & Good Will Credit Management
Accounting Service API's
Purchase Invoice Management
Analytics & Reporting
Reporting & Gap Analysis Tools
Heads-up Display Dashboards
SSRS Reporting
Industry Benchmarking Tools
GA Integration
Power BI Dashboards
Choose a plan that works best for your business
We offer a highly flexible solution, with service plans that can be tailored to your business and specific needs.
Choose feature lite start-up services, enabling a lighter resource model.
Define and configure the services that suit the specifics of your business.
Supercharge your business with the full suite of profitability and operational services.
Get in touch today to take your business to the next level
As a growth strategy for where we are as a business, Office Power blows everything else out of the water
⭐⭐⭐⭐⭐
It is revolutionary. You don't need any other back office systems
⭐⭐⭐⭐⭐
We know the guys very well and fully trust them to deal with our customers
⭐⭐⭐⭐⭐
Office Power understand how important it is that the technology works for us
⭐⭐⭐⭐⭐
We now have a website that we couldn't possibly have afforded ourselves
⭐⭐⭐⭐⭐
This was the best decision I have ever made in the 32 years of my career
⭐⭐⭐⭐⭐
The scale and the buying power is second to none
⭐⭐⭐⭐⭐
I could never have funded the amount and quality of the team on my own
⭐⭐⭐⭐⭐
I would recommend Office Power to any dealer who wants to achieve growth and profitability
⭐⭐⭐⭐⭐
Office Power enjoy growing our brand as much as we do
⭐⭐⭐⭐⭐
Really great support in the most difficult time ever
⭐⭐⭐⭐⭐
We are so blown away with the immense effort from Office Power
⭐⭐⭐⭐⭐